Mediums, Styles and Techniques
The two paintings below are oil on canvas ("Faerie Guardians" below left) and oil on panel ("Sleeping Beauty" below right) Scroll down past the main exhibit for examples of the same picture "ALL HALLOWS EVE" rendered in digital media, Prismacolor colored pencils on paper and oil on canvas compared. Visit "original art" for more on these...
"Faerie Guardians" MMVI Oil on Canvas

"Cinderella" MMXIV mixed media including 3D

"Sleeping Beauty" MMIV Oil on panel

"Elven Fairy Magic" MMVII Prismacolor Pencils

Of all Shakespeare's plays A Midsummer Night's Dream has had the most compelling hold on the imagination of painters. William Blake made a series of watercolors in the early 1790's.By the mid 1800's a tradition developed among British and Scottish Painters that continues today. See more fairies in the Gallery link Section past the Fantasy Art exhibit.

To your left, in "Elven Fairy Magic", Elements of surrealism and symbolism abound, especially in the women's faces in the evaporating mist flowing upward and merging with the forest. It features David's friend Ann as it's model and is rendered in Prismacolor Colored Pencils - A 'Colored Pencil Painting' if you will, Because this kind of picture is really not at all what people think of when they hear the word 'drawing'.

"Elven Rune Magic" MMXIV Mixed Media including 2D 3D & Oil

This art medium, these relatively new soft oil based colored pencils are not the first Dry Painting Medium: the term 'Pastel Paintings' originated in the 17th century. They also are a wet medium, mixing well with solvents and applied with an artist's brush getting very oil painting- like results. The digital montage is a natural evolution of the preliminary photo collage David learned from great Fantasy and Realistic illustrators like Maxfield Parrish and Norman Rockwell.

By Popular Demand! So many have written asking how to tell the various media apart~ But friends! That's JUST my point! Left Digital Montage, Center: Prismacolor Painting, Right Oil on canvas

"A Mermaid" below left is a return to the legends, a fantasy portrait mostly done to please the model... Along with the classic myths and legends that captivate my imagination and serve as great fantasy art themes with all their beautiful maidens, mighty heroes, gods and monsters.

"A Mermaid" MMVII Mixed Media and "Ascension" [MMXII Mixed Media] shows traditional Merfolk from Greek Mythology. Valkyrie Maiden", right [MMX Mixed Media] The Valkyries were the daughters of Odin from Norse mytholgy who would collect the dead from the battlefields. This illustration is from the Ring Cycle from Norse Mythology which was used as the pattern for the Lord of the Rings.

"The Red Dragon" MMXI Mixed Media "The Mammoth Hunt" MMI Digital Montage and "Elven Archer"

I began my career in 1974 as a scientific illustrator and had to keep my love of folklore and religion a secret... I began my career as a scientific illustrator and the methods I learned from the scientists to sort out the details I now apply to my fantasy art as well. I began doing fairy art at the request of my models and after doing a fairy portrait for one, they all wanted them. They were not so enthusiastic about the Jungle Girls. Among my contemporaries or the generation preceding me in the world of Fantasy Art I admire the work of Wallace Wood, Jack Kirby, Ray Harryhausen, Arthur Rackham, Brian Froud, Alan Lee and Frank Frazetta.

I took inspiration from their subject matter and compositions and applied techniques of photorealism I learned from Maxfield Parrish and Norman Rockwell and employed new media like Prismacolors in "Jungle Tales". For years Prismacolors were my favorite media even though nothing could compare to the look of oils in person, but lately, I have fallen in love with digital media. For this I offer no apology. I love it, the possibilities of mixing media and styles seem limitless! Like Photography, it will only get better. I recently have begun incorporating various 3d Studio software programs and look forward to more fun mixing media in the coming years.

"The Summoner" MMII Mixed Media

"Fairies, Goblins and Dwarfs' MMVI Prismacolor Pencils on Bristol Board

Eroticism in Contemporary Fantasy Art

Over the last 300 years, ideas about female beauty have drastically changed and this has caused many of the most wonderful paintings of the old masters to seem 'ugly' to youthful modern audiences. For example, in the days of Peter Paul Rubens, being forty to sixty pounds over-weight was considered not only attractive, but a status symbol. Beauty is in the eye of the beholder and tastes have clearly changed.

"Tiny Dancer" MMX Mixed Media

Of course simple Pin-ups and mild Erotic Art make up a great deal of Contemporary Fantasy Art and have always been among my favorites.

Throughout Art History, the Classical or Greco-Roman school of art is distinguished by the notion that the human form is the ultimate arena for artistic expression. One of the principal attractions of fairy painting for the Mid-Victorians was that it made possible highly realistic and erotic pictures of unclad females that would have otherwise been inadmissible. In the 20th century the sexual revolution eliminated all of these traditional boundaries.

In 21st century America however, the sight of a healthy unclad woman is taboo even in the visual arts. Unlike in modern revisionist folklore, in traditional faerie lore, fairies were quite sexy! Many of them commonly went about proudly unclothed - uncommonly beautiful - mischievous, and scandalously promiscuous!

"The Dandelion Fairy" MMXIV Photo-realistic Fantasy in Mixed Media

I like the fantasy art with the magical and powerful ladies best myself. In popular culture I find strong women like super-heroines and anime girls the most attractive myself. I never really liked the Fantasy Art with weak or helpless women or powerless women dominated by those steroid freak musclemen that Saddam Hussein collected. "Sheena Queen of the Jungle" [below]

Chicks in chain mail? Now THAT'S FANTASY!

"Goblin Fighter Halith" MMX (below left) and

"Duel of the Amazons" MMX (below right) Featuring Fabulous Ferocious Fighting Fantasy Art Femme Fatales were commissioned for Contemporary Genre Fantasy and unconnected to any pre-existing folklore or culture.

Most of the themes for my Art are traditional, drawing upon folklore and mythology, but not always. Sometimes I go to popular culture for inspiration too. Mixing genres and media have kept this as fun for me as the day I started, but I don't think that "anything goes".

I think the artist has a duty to society and times are changing. Preserving our Endangered Cultural Heritage is my personal mission.

I love the warrior maiden phenomenon in today's fantasy art world but am a bit amused that so many contemporary writers want to re-write history to pretend they were always there. I find it astonishing that TV shows like Xena, warrior Princess" have overpowered our precious historical records and fantasy has taken the place of history in the minds of modern people. The warrior woman has emerged in these recent fantasy books, movies and Art as ferocious and deadly as the mightiest male warriors of myth and history. The weaker sex? Not in these stories! The oddest part of this fun new phenomenon in fantasy art, cartoons, novels and movies is the eagerness of certain writers to pretend they always existed and to present historical figures in this light.

For eons, men protected women. From the era of cavemen to the American Frontier savage tribes and wild beasts were a constant threat and women were to be protected at any cost. A day came at last when it was safe for women to go forth unprotected and men stepped aside to make room for these capable gals in halls of government, office buildings, hospitals and many other vocations.

Make NO mistake- the "warrior woman" so prevalent in mythology did not exist in history but with exceptions you can count on one hand.

History has been abandoned in public schools under pressure to improve standardized test scores and in a recent national survey 60% of American high school students could not recognize Abraham Lincoln's face or tell you what nation America declared its independence from. Never fear~ "Abraham Lincoln Vampire Slayer" will restore his facial recognition to a new generation as this blend of fact and fantasy replaces history in the cultural consciousness by the power of motion pictures and television.

To make matters worse, art education has been almost completely removed from American Schools. Today, most American college graduates cannot name even one living artist. There is no way that mandating more math, requiring more reading, or scheduling more science will replace what we have lost as a culture.
Surrealist Philosophy in Fantasy Art
Surrealism is a literary and artistic movement launched in 1924 by the French poet Andre' Breton proclaiming the radical transformation of all existing social, scientific, and philosophical values through the total liberation of the subconscious. The most famous surrealist was the great Salvador Dali. His subconscious mind saw things that should be rigid as limp or melting and reflected it in his work with a sense of horror. Soon surrealism became synonymous with images of inappropriately limp or soft objects. (What would Sigmund Freud say about that I wonder?) "Surrealism does not allow those who devote themselves to it to forsake it whenever they like. There is every reason to believe that it acts on the mind very much as drugs do; like drugs, it creates a certain state of need and can push man to frightful revolts." ~ The Surrealist Manifesto
Melting things are not necessarily surrealistic & surrealism is as vast as the human psyche.
Everyone has different things enslaved in their subconscious mind.
The monsters, wild beasts, fearless heroes, and insanely gorgeous femme fatales shackled deep in Howard David Johnson's subconscious mind run free in his fantasy art.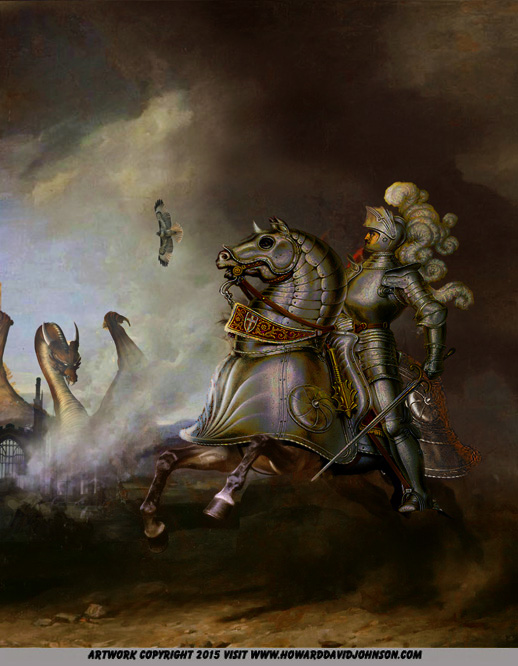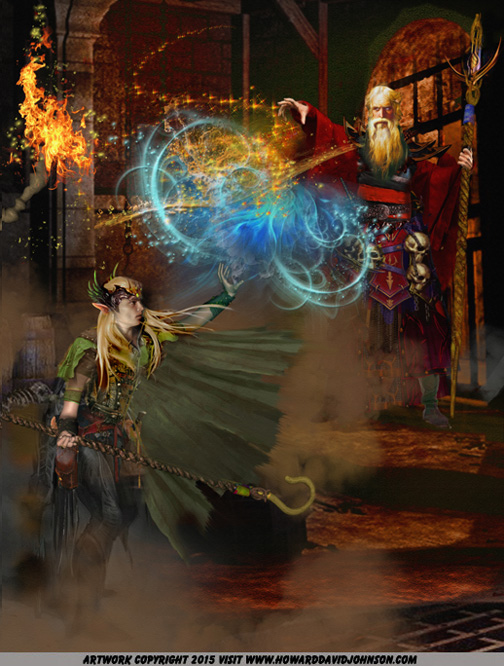 "The Fire Drake", "The Gand-Alf" [or Wand-Elf] and "Morgana le Fae"
I am persuaded that Fantasy Art can be as viable a form of art as any other. it hangs in the halls of the world's greatest museums and yet is is often used as a term of derision. To make matters worse, art education has been almost completely removed from American Schools. Today, most American college graduates cannot name even one living artist.
There is no way that mandating more math, requiring more reading, or scheduling more science will replace what we have lost as a culture.
Thank You for Visiting the Surrealistic Fantasy Art Gallery of Howard David Johnson
Scroll down for links to more Galleries of Fantastic Realism...
All Fantasy Art & text copyright 2014 Howard David Johnson All rights reserved.
Who is American Fantasy Illustrator Howard David Johnson?
In David's invitation to the Florence Biennale Contemporary Art Exhibition, (a partner in the United Nations' Dialog among Nations), UN Secretary General Kofi Anon wrote: "Artists have a special role to play in the global struggle for peace. At their best, artists speak not only to people; they speak for them. Art is a weapon against ignorance and hatred and an agent of public awareness... Art opens new doors for learning, understanding, and peace among nations."
Howard David Johnson is a contemporary realistic artist and photographer with a background in the natural sciences and history. David works in a wide variety of mixed media ranging from oil on canvas to digital media. David's realistic illustrations have made appearances in every major bookstore and game shop chain in America as well as magazines and educational texts around the world.

Some of David's more prestigious clients have included the University of Texas, the Universities of Oxford and Cambridge in England, The Australian Mint, The National Geographic Society, Paramount Studios, Universal Studios, MGM Studios, Warner Brothers Home Video, ABC/Disney, CBS TV, PBS TV, The History Channel, Enslow Educational Publishers, Adobe Photoshop, Auto FX, Tree-Free Greeting, Verizon wireless, Apple IPOD, Penguin, Doubleday (Now Random House), Harlequin Top Historical Romances, and the History Book of the Month Club, as well as appearing in periodical publications like Popular Photography and the Wall Street Journal.

http://online.wsj.com/article/SB10001424052702304707604577426072268788062.html

A Traditional style portrait of the artist. [Photo by his son Erich.]

After a lifetime of drawing and painting, David's Traditional Art was exhibited in the British Museum in London in 1996, ( 3 years before he got his first computer ) as well as numerous American ones since, such as the Metropolitan Museum of Art.

Working in a wide variety of mixed media David offers his customers a variety of options and more than four decades of experience. As an illustrator he has not only used the computer but has been involved in the development and marketing of software for Adobe Photoshop.

Digital art, Colored pencils, Pastels, Mixed media, & also Oil Paintings can also be commissioned for select projects. Digital illustration projects start at $500.U.S. and group rates are available. David delivers custom made copyright free illustrations & old fashioned customer service when he does work-for-hire. To publish existing pieces of his realistic art, David sells licenses starting at only $99.USD.

With a background in traditional media including oils, pastels and colored pencils, David now embraces leading edge digital media in the creation of his depictions of fantasy art, folklore, mythology, legend, religion, and heroic history.

He works in and mixes a wide variety of media * Oil paintings * Acrylic Paintings * Prismacolor Paintings * Drawings * Chalk & Oil Pastel Paintings * Photography * and last but not least: Digital Artistry & Mixed Media *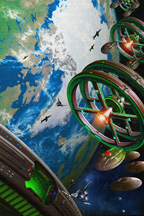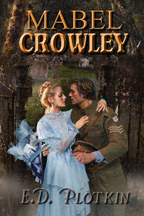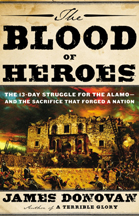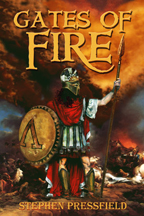 CLICK ON THESE LINKS OR E-MAIL FOR THE JOHNSON GALLERIES' VARIOUS BUSINESS SERVICES:
Enter a World of Beauty and Imagination...


INDEX of GALLERIES ~ LINKS to LARGER ART
Click on these Fun Educational Realistic Art Gallery link icons for Two-fisted Tales of VALOR & Frontline Combat featuring Legendary Warriors of History, Knights and ladies of Arthurian Legend, Celtic, Nordic, Asian and Olympian gods & monsters, unicorns, dragons, fairies... and more!
| | | | | | | | | | | | |
| --- | --- | --- | --- | --- | --- | --- | --- | --- | --- | --- | --- |
| | | | | | | | | | | | |
| King Arthur | Legends of History | | Norse Mythology | Fantasy Art | Celtic Mythology | Religions of the World | Asian Mythology | Angel Art | Spartan Warriors | Fairy Paintings | Mythic women |
| | | | | | | | | | | | |
| Mermaid Art | History Part Two | | History of Dragons | Pencil Portraits I | Studio Photography | Colored Pencils II | | Realistic Paintings | Pre-Raphaelite Art | Legendary Women | Warrior Women |
| | | | | | | | | | | | |
| The Art of War | Mythic Creatures | About Realistic Art | Art of Res Publica | Beautiful Women | Art NuVeau | Fantasy Pin ups | Fairy Lore | Flower Fairies | | Science Fiction Art | Lady of Shallot |
| | | | | | | | | | | | |
| Catholic Art | Art of the Bible | Symbolist Art | Surrealist Art | Commercial Art | Business Center | Style & Technique | Biographical | Paintings in Oils | Russian Mythology | Classic Fairy Tales | Art Link Exchange |
All Fantasy Art and text copyright 2014 by the author, Howard David Johnson. All Rights Reserved Worldwide
Affordable Art Lessons:
The Brandywine School of the Illustrative Arts offers beginning, intermediate, advanced & master level instruction in Drawing, Painting, Photography, & Digital Illustration by Internationally acclaimed Illustrator & Photographer Howard David Johnson.
Your first 3 lessons are delivered online the same day via e-mail that we accept your payment and are also mailed the next day on CD-Rom Disk via U.S.P.S. Priority (2-3 day) mail or 1st class international mail.
LIMITED EDITION

[of a maximum 1,000 prints per image]

PRINT-ON-DEMAND

Each inspected, hand signed and numbered by the artist!

Gorgeous Quality Printing!

For a LIMITED time and a LIMITED print run many of the illustrations in Johnson's vast portfolio are now available!

Free Shipping and Handling on all orders!

A numbered certificate of authenticity is included.

CHECK OUT WITH

thejohnsongalleries@gmail.com

Sized to fit standard frames!

20x16 inches [508x406mm] & 14x11 inches [356x280 mm]

Poster Size Art Reprints!

The Johnson Galleries now prints these "in-house" with our new state of the art Epson 7890 oversize printer on Epson 200 year premium photo paper and canvas with Epson inks!
JOHNSON ART BOOKS ON SALE NOW
from BRANDYWINE PRESS!
These beautifully printed 11" x 8.5" 64 page hardcover and trade paperback versions feature 48 full page interior plates in full color starting at only $14.99 USD. Less than the price of a single poster! Featuring Realistic Mythological and Fairy Art created in a style inspired by Classic Illustrators by American Artist & Photographer Howard David Johnson.
Click on the covers to order the Fantasy Art Books from our vendor, Lulu.com

NEW REPRINTS! LICENSES CUSTOM BOOK COVERS ORIGINAL ART ART INSTRUCTION ART BOOKS
This Fantasy Art Gallery has been honored by more than 25,000,000 Unique Visitors
from the Four Corners of the Earth
My Friends from around the world thus far :
England, Canada, Scotland, Wales, Ireland, Germany, France, Monaco, Andorra, Italy, The Vatican City State, Greece, Macedonia, Cyprus, Turkey, Belgium, Denmark, The Faroe Islands, Greenland, Yugoslavia, Macedonia, Croatia, The Czech Republic, Bosnia, Herzegovina, Slovakia, Slovenia, Luxembourg, Latvia, Estonia, Hungary, Bulgaria, Lithuania, Poland, Austria, Romania,

South Africa, Seychelles,

Mexico,

Spain, The Russian Federation, Ukraine, Kazakhstan, Moldova, Malta, Iceland, Finland, Norway, Netherlands, Switzerland, Liechtenstein, Sweden, Portugal, Albania, Armenia, Georgia, Azerbaijan, Belarus, Kazakhstan, Gibraltar, Israel, Palestinian Territories, Egypt, Libya, Mali, Algeria, Niger, Saudi Arabia, Oman, The United Arab Emirates, Kuwait, Bahrain, Qatar, Yemen, Iraq, Iran, Jordan, Syria, Lebanon, Morocco, Ethiopia, Eritrea, Liberia, The Republic of Congo, Rwanda, Kenya, Angola, Ghana, The Ivory Coast, Zambia, Zimbabwe, Sudan, Nigeria, Namibia, Uganda, Kenya, Eritrea, Tanzania, Botswana, Malawi, Senegal, Djibouti, Cameroon, Chad, Gambia, Mozambique, Swaziland, Lesotho,

China, Hong Kong, Macau, Mongolia,

South Korea, China,

Hong Kong,

Viet Nam,

Japan,

South Korea,

Macau, Mongolia, Mauritius, Singapore, Thailand, Cambodia, Laos,   Myanmar, Macau, Malaysia, Taiwan, Nuie, New Zealand, Fiji, The Cook Islands, New Caledonia, Vanuatu, American

Samoa, Australia, Micronesia, Polynesia, Papua New Guinea, The Heard and McDonald Islands, The Philippines, Guam, Palau, Cocos Island,  

The Kingdom of Tonga, Malaysia, Brunei Darussalem, India, Pakistan,   Afghanistan, Bhutan, Bangladesh, Sri Lanka, Chagos Islands, The Republic of Maldives, Turkmenistan, Kyrgyzstan, Uzbekistan, Nepal, Indonesia, Chile, Argentina, Uruguay, Paraguay, Brazil, Peru, Aruba, Venezuela, Bolivia, Suriname,

Guyana, Aruba,

The Dominican Republic, Guatemala, Costa Rica,  Colombia, Trinidad and Tobago,   Antigua and Barbuda, Barbados, The Virgin Islands, The Netherlands Antilles, Panama, Saint Vincent & Grenadines, Grenada, Ecuador, Belize,   Nicaragua, El Salvador, Bermuda, Cuba, Jamaica, Dominica, Haiti, Puerto Rico, Cayman Islands,   Anguilla, The Bahamas, Honduras,

and my home, The Great Free State of Texas... (USA)
I think that's everybody but, if your home is not listed here please e-mail and tell us where you're from...
info@howarddavidjohnson.com
We love hearing from you! Your business, letters & links are always welcome. E-mail for courteous service...
Keep scrolling down for essays and articles on Fantasy Art...