The belief in dragons seems to have risen all over the world without even the slightest knowledge of dinosaurs...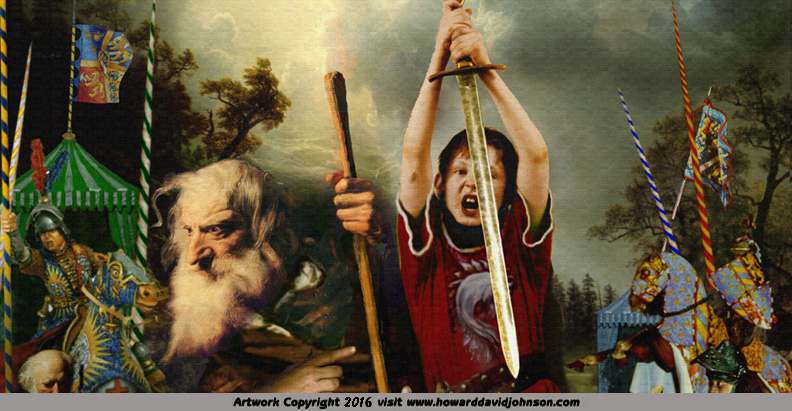 The Boy King
Bibliography/Acknowledgements
Howard Pyle: "The Story of King Arthur and his Knights" T. H. White: "The Sword in the Stone" Mr. E. W. B. Nicholson, M.A. "Keltic Researches" John Rhys: "Studies in the Arthurian Legend" and " Lectures on the Origin and Growth of Religion as Illustrated by Celtic Heathendom" Alfred Nutt: "Popular studies in Mythology, Romance, and Folklore" Nennius: Historia Britonum and "Le Mort D' Arthur" Sir Thomas Mallory
Music by Peter Ilyich Tchaikovsky ( 1840- 1893) - "Swan Lake"
| | |
| --- | --- |
| Howard Pyle's "The Story of King Arthur" was one of my boyhood favorites along with T .H. White's "The Sword in the Stone" and "The Boy's King Arthur" by Thomas Mallory illustrated by N.C. Wyeth. | Click on the graphic above to buy the new King Arthur Book by Lady Charlotte Guest, Sir John Knowles & Dr. Colin Bradshaw-Jones with illustrations by Howard David Johnson |
Thank you for visiting The King Arthur & the Knights of the Round Table Art Gallery
If you enjoyed this gallery you might enjoy some of David's other themed Galleries, links are just below.

Enter a world of Beauty and Imagination...

Admission Free Non-Profit Virtual Realistic Art Museum
Site Map Deutsch Francais Italiano De Portugese Espanol Dutch Japanese Chinese
The Realistic Art Galleries of Contemporary American Illustrator & Photographer Howard David Johnson
Click on the Icons to visit the Fun & Educational Art Galleries : Including Realistic Art of Greek Mythology, Mythic art of Rome, Asia, The Celts, The Norsemen, and more ...Fairy and Dragon legends, The King Arthur Legends, The Seven Wonders of the Ancient World, Paintings of Ancient Egypt and Babylon, Illustrations of Ancient Mystic Religious texts, War and Civilization from The Ancient Spartans and the Trojan Horse to World War Two, The World's Great Religions, free lessons in Realistic Art Technique and Essays on Realistic Art and Technology.
These Realistic Art Galleries and those they link to are suitable for General Audiences...
INDEX of GALLERIES
Click on these Fun Educational Realistic Art Gallery icons for two-fisted tales of valor & frontline combat featuring legendary warriors of history, Olympian gods & monsters, mythic unicorns, dragons, fairies, & romance...
Home Page
Fantasy Art
Religions of the World
Angel Art
Fairy Paintings
Spartan Warriors
Symbolist Art
Norse Mythology
Celtic Mythology
Asian Mythology
Studio Photography
Goddess Art
Surrealist Art
About Realistic Art
Pencil Portraits I
Colored Pencils II
Science Fiction Art
Realistic Paintings
About the Artist
Art of Res Publica
Classic Fairy Tales
History of Dragons
Pre-Raphaelite Art
Art Link Exchange
Art of the Bible
Mermaid Art
The Art of War
Business Center
Legendary Women
Paintings in Oils
Who is American Illustrator Howard David Johnson?
In David's invitation to the Florence Biennale Contemporary Art Exhibition, (a partner in the United Nations' Dialog among Nations), UN Secretary General Kofi Anon wrote: "Artists have a special role to play in the global struggle for peace. At their best, artists speak not only to people; they speak for them. Art is a weapon against ignorance and hatred and an agent of public awareness... Art opens new doors for learning, understanding, and peace among nations."
Howard David Johnson is a contemporary visual artist and photographer with a background in the natural sciences and history. He works in a wide variety of media ranging from traditional oils, pastels and others to cutting edge digital media. After a lifetime of drawing and painting, Howard David Johnson's Traditional Realistic Art was exhibited in the British Museum in London in 1996, ( 3 years before he got his first computer ) as well as numerous American ones since, such as the Metropolitan Museum of Art. His illustrations have appeared in every major bookstore and gameshop chain in America as well as magazines and educational texts around the world.

Some of his more prestigious clients have included the National Geographic Society, the University of Texas, the History Book of the Month Club, PBS TV, Adobe Photoshop Auto FX, and Paramount Studios. Licenses to print his existing work are available at surprisingly affordable prices. Oil Paintings, Colored pencils, Pastels, Mixed media, and Digital art can also be commissioned for select projects - Click on commission new art below... Working in a variety of traditional and cutting edge digital media he offers his customers a variety of options and more than thirty years of experience. As a commercial illustrator HDJ has not only used the computer but has been involved in the development of imaging software. On his existing works license offers start as low as $99.
This Art Gallery has been honored by more than 25,000,000 Unique Visitors
from the Four Corners of the Earth
My Friends from around the world thus far :
England, Canada, Scotland, Wales, Ireland, Germany, France, Monaco, Andorra, Italy, The Vatican City State, Greece, Macedonia, Cyprus, Turkey, Belgium, Denmark, The Faroe Islands, Greenland, Yugoslavia, Macedonia, Croatia, The Czech Republic, Bosnia, Herzegovina, Slovakia, Slovenia, Luxembourg, Latvia, Estonia, Hungary, Bulgaria, Lithuania, Poland, Austria, Romania, Spain, The Russian Federation, Ukraine, Kazakhstan, Moldova, Malta, Iceland, Finland, Norway, Netherlands, Switzerland, Liechtenstein, Sweden, Portugal, Albania, Armenia, Georgia, Azerbaijan, Belarus, Kazakhstan, Gibraltar, Israel, Palestinian Territories, Egypt, Libya, Mali, Algeria, Niger, Saudi Arabia, Oman, The United Arab Emirates, Kuwait, Bahrain, Qatar, Yemen, Iraq, Iran, Jordan, Syria, Lebanon, Morocco, Ethiopia, Eritrea, Liberia, The Republic of Congo, Rwanda, Kenya, Angola, Ghana, The Ivory Coast, Zambia, Zimbabwe, Sudan, Nigeria, Namibia, Uganda, Kenya, Eritrea, Tanzania, Botswana, Malawi, Senegal, Djibouti, Cameroon, Chad, Gambia, Mozambique, Swaziland, Lesotho, South Africa,Viet Nam, Japan, South Korea, China, Hong Kong, Macau, Mongolia, Mauritius, Singapore, Thailand, Cambodia, Laos,   Myanmar, Macau, Malaysia, Taiwan, Nuie, New Zealand, Fiji,

El Cid [MMX mixed media] The Cid of romance is not the historical Cid, the rebel, the consorter with infidels and the enemies of Spain, but the paragon of knightly virtue, patriotic duty and the flower of all Christian Grace, the "King Arthur of Spain".

The Cook Islands, New Caledonia, Vanuatu, American Samoa, Australia, Micronesia, Polynesia, Papua New Guinea, The Heard and McDonald Islands, The Philippines, Guam, Palau, Cocos Island,  The Kingdom of Tonga, Malaysia, Brunei Darussalem, India, Pakistan,   Afghanistan, Bhutan, Bangladesh, Sri Lanka, Chagos Islands, The Republic of Maldives, Turkmenistan,  Kyrgyzstan, Uzbekistan, Nepal, Indonesia, Chile, Argentina, Uruguay, Paraguay, Brazil, Peru,   Aruba, Venezuela, Bolivia, Suriname, Guyana, Aruba, The Dominican Republic, Guatemala, Costa Rica,  Colombia, Trinidad and Tobago,   Antigua and Barbuda, Barbados, The Virgin Islands, The Netherlands Antilles, Panama, Saint Vincent & Grenadines, Grenada, Ecuador, Belize,   Nicaragua, El Salvador, Bermuda, Cuba, Jamaica, Dominica, Haiti, Puerto Rico, Cayman Islands,   Anguilla, The Bahamas, Honduras, Mexico, and my home, The Great Free State of Texas... (USA)
If your home is not listed here please e-mail and tell us where you're from...
ON SALE NOW from BRANDYWINE PRESS!

These beautifully printed 11" x 8.5" 64 page hardcover and trade paperback versions feature 48 full page interior plates in full color starting at only $14.99 USD. Less than the price of a single poster! Featuring Realistic Mythological and Fairy Art created in a style inspired by Classic Illustrators by American Artist & Photographer Howard David Johnson.

OPEN ENDED (UNLIMITED RUN) ECONOMICALLY PRICED PRINTS ARE STILL AVAILABLE AT:
ART.COM ALLPOSTERS.COM & AMAZON.COM
E-BAY also has an ever changing selection of collectible and Out-of-Print Posters
Those who love the King Arthur stories usually also enjoy the Robin Hood and Ivanhoe stories as well....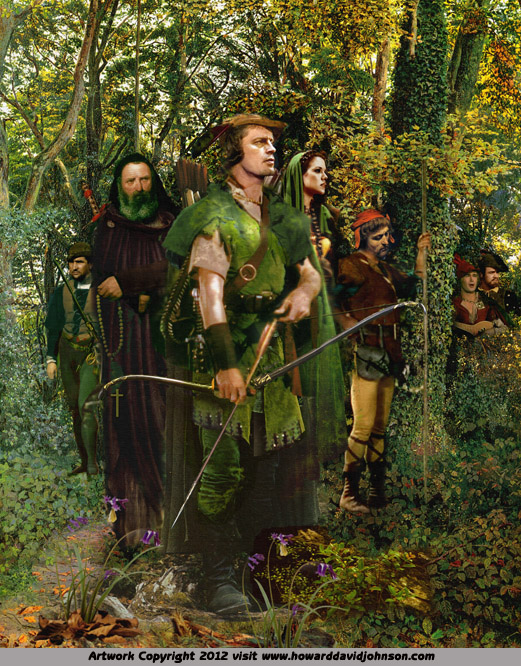 ARCHIVAL REPRINTS LICENSES CUSTOM BOOK COVERS ORIGINAL ART ART INSTRUCTION ART BOOKS
MANY PIECES OF ORIGINAL ART ON PAPER LIKE THESE ARE AVAILABLE:
Many pieces are currently available, mostly 11x14-13x16 inch Prismacolor Paintings (like Helen of Troy) and pencil portraits (like Arriba #2) followed in number by Acrylic, Prismacolor and pastel mixed media all on #400 Strathmore Bristol Board ranging from $700.00-$1400. 00 USD and Oil Paintings on canvas ranging from $1999.00 - 10,000.00 USD. Pieces that have never been rendered in oil can be commissioned in 16x20 inch size on canvas for 50% down and delivered in under 90 days with signed certificates of authenticity aka legal documents pledging never to render it in that size and media again to ensure premium collectability and investment potential.
David can also do a completely new picture designed in digital media (for more on this visit his digital media page) and when we approve the photo-montage, he uses it as reference to render it in oil on canvas. No surprises. Existing Artwork is shipped very well protected and go out to you immediately via Fed Ex or USPS Express mail upon receipt of payment at our expense. All new creations cost a bit more depending on what is involved. All new creations and rendering photo montages into art on paper are a LOT of fun with e-mail attachments and digital cameras.
ORIGINAL OIL PAINTINGS ON CANVAS LIKE THIS ARE ALSO AVAILABLE: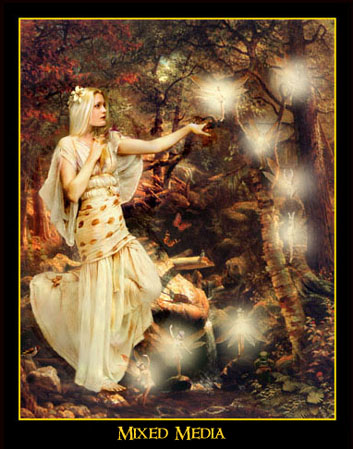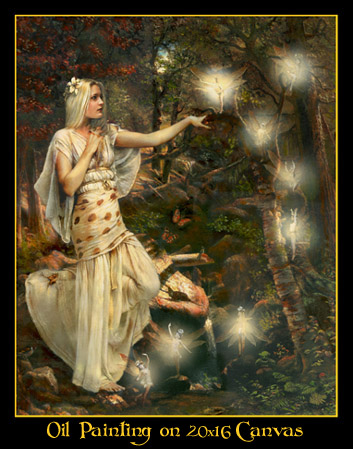 Almost all of Johnson's Mixed Media creations (above left) displayed in this site are available to be rendered in oil on canvas like the 20x16 oil on canvas Faerie Guardians 2006 (above right). Each design will only be rendered in oil once at this size and can be delivered in as little as 90 days. Sadly, much of the subtlety, vibrance, lustre and impact of an original oil painting is lost when it is scanned and imported to digital media or even printed by a master printer. Nothing can compare to an original oil painting viewed in person in my opinion but the other painting media definitely look good in print and have their charms and distinct advantages as well.
ARCHIVAL REPRINTS LICENSES CUSTOM BOOK COVERS ORIGINAL ART ART INSTRUCTION ART BOOKS
e-mail for more details at
Thank you for Visiting... Your business, letters, & links are always welcome.
*****