Videogame World builder Web Designer and Performing Artist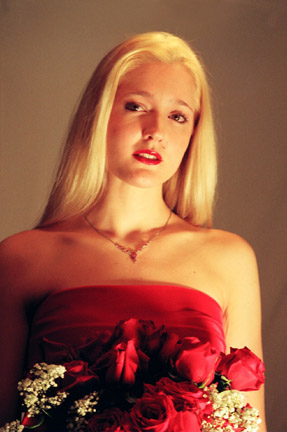 (Jessica Spence as Actor and model photographed by David Johnson (c) 2010)
(This is best viewed in full screen mode- CLICK F 11 on your keyboard or again to remove it... if your browser stops loading CLICK REFRESH... )
Out of this wood do not desire to go: Thou shalt remain here, whe'r thou wilt or no." From "A Midsummer Night's Dream" William Shakespeare (1564-1616) Of all his plays A Midsummer Night's Dream has had the most compelling hold on the imagination of painters. William Blake made a series of watercolor fairy paintings in the early 1790's. By the mid 1800's a tradition developed among British and Scottish Painters that continues today all over the world in every known media…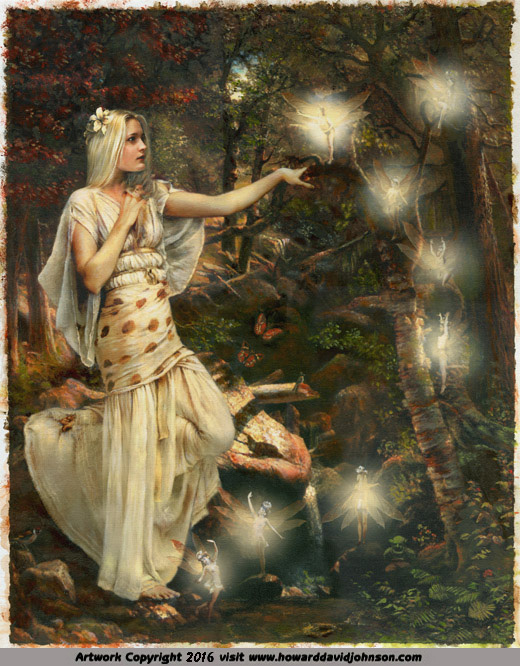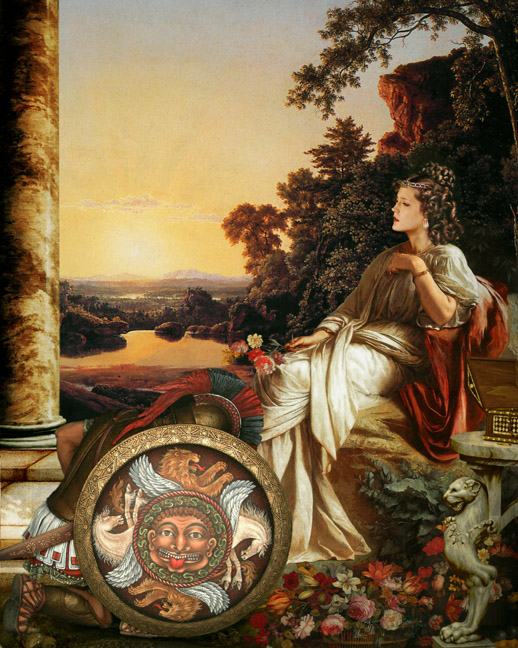 "Faerie Guardians" MMVI is a 20 x 16 oil painting and features Jess portraying Shakespeare's Titania, High Queen of the Fairies from "A Midsummer Night's Dream. "Return with your shield or on it" Was every Spartan woman's wartime farewell to her lover or even her son... Not even a Spartan MOTHER could forgive cowardice, the heavy shield made flight impossible. (Mixed Media including digital) To see lots more photography, portraits and more artwork featuring Jessica visit the Johnson Galleries below...
Photographer's Model Picture Gallery

(Actor and model Jessica Spence photographed by David Johnson (c) 2006).

Here's Jessica's photo and here's Jessica's colored pencil portrait from it for comparison.

If the photos of Jessica stop loading click refresh

If the photos of Jessica stop loading click refresh

(Actor and model Jessica Spence as photographed by H D Johnson (c) MMVI).
Portraits of Actor and model Jessica Spence, rendered photo-realistically in colored pencils on Windor-Newton Cotman Watercolour Paper in April 2006 by Howard David Johnson.
Artist's Model Picture Gallery
"Poor Cinderella" MMX (Left) Rags to Riches: Cinderella was so named because her step-mother made her sleep on the stone in the fireplace hearth and was always covered in cinders. The fairies appeared to her in the form of birds to work their magic; alas there was no fairy godmother in the story. Walt Disney re-invented many of these stories for his films with extra scenes and characters to get them up to screen running times. Poor Cinderella was done to compliment "Queen Cinderella" and are part of a new series of fairy tale illustrations David is working on including classic and contemporary fairy tales;.

Jessica - (Portrait #3) Rendered in Prismacolors and Spectracolors with Ebony pencil lowlights on Windsor & Newton Cotman 140 lb. Water Color Paper . Background heightened with pastels. Even with nothing but pencil and paper the use of original photography of as a source makes this mixed media.

NEW REPRINTS! LICENSES CUSTOM BOOK COVERS ORIGINAL ART ART INSTRUCTION ART BOOKS

Thank You for Visiting...

Sponsored by the Johnson Galleries
Books containing these illustrations featuring Jessica Spence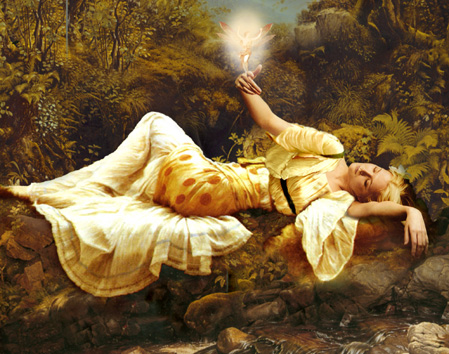 ON SALE NOW from BRANDYWINE PRESS!

These beautifully printed 11" x 8.5" 64 page hardcover and trade paperback versions feature 48 full page interior plates in full color starting at only $14.99 USD. Less than the price of a single poster! Featuring Realistic Mythological and Fairy Art created in a style inspired by Classic Illustrators by American Artist & Photographer Howard David Johnson.
NEW REPRINTS! LICENSES CUSTOM BOOK COVERS ORIGINAL ART ART INSTRUCTION ART BOOKS

Enter a world of Beauty and Imagination...
| | | | | | |
| --- | --- | --- | --- | --- | --- |
| | | | | | |
| King Arthur | Greek Mythology | Celtic Mythology | The Great Religions | Norse Mythology | Fairy Paintings |
| | | | | | |
| --- | --- | --- | --- | --- | --- |
| | | | | | |
| Surreal Fantasy Art | Symbolist Art | The Seven Wonders | Art of Res Publica | Legends of History | Spartan Warriors |
Digital Techniques

Asian Mythology

Commercial Art

History of Dragons

More Fantasy Art

Mythic Women Art
Pin up Art Gallery
About Realistic Art
Studio Photography
Art Instruction
Frauen Mit Blumen
Realistic Paintings
About the Artist
Digital Thumbelina
Pencil Portraits I
Colored Pencils II
Pre-Raphaelite Art
Art Link Exchange
Art of the Bible
Mermaid Art
The Art of War
Business Center
Legendary Women
Paintings in Oils
All Jessica Spence Art and Photography Art and copyright 2014 by Howard David Johnson. All Rights Reserved Worldwide
Who is Artist and Photographer Howard David Johnson?
In one of David's invitations to the Florence Biennale Contemporary Art Exhibition, (a partner in the United Nations' Dialog among Nations), UN Secretary General Kofi Anon wrote him: "Artists have a special role to play in the global struggle for peace. At their best, artists speak not only to people; they speak for them. Art is a weapon against ignorance and hatred and an agent of public awareness... Art opens new doors for learning, understanding, and peace among nations."
A portrait of the artist in his painting studio as he is today in a photo taken by his youngest son Erich.

Howard David Johnson is a contemporary visual artist and photographer with a background in the natural sciences and history. He works in a wide variety of media ranging from traditional oils, pastels and others to cutting edge digital media. After a lifetime of drawing and painting, Howard David Johnson's Traditional Realistic Art was exhibited in the British Museum in London in 1996, ( 3 years before he got his first computer ) as well as numerous American ones since, such as the Metropolitan Museum of Art. His illustrations have appeared in every major bookstore and game-shop chain in America as well as magazines and educational texts around the world. Some of his more prestigious clients have included the National Geographic Society, the University of Texas, the University of Cambridge in England, the History Book of the Month Club, Adobe Photoshop Auto FX, Universal Studios, Paramount Studios, and PBS TV.

Oil Paintings, Colored pencils, Pastels, Mixed media, and Digital art can also be commissioned for select projects - Click on commission new art below... Working in a variety of traditional and cutting edge digital media he offers his customers a variety of options and more than thirty years of experience. As a commercial illustrator HDJ has not only used the computer but has been involved in the development of imaging software. On his existing works license offers start as low as $99.