ORIGINAL OIL PAINTINGS ON CANVAS BEGUN IN DIGITAL MEDIA:
Many of Johnson's Digital Mixed Media creations (below left and right) displayed in this site are currently available to be rendered in oil on canvas like the 20x16 oil on canvas Faerie Guardians 2006 (below center). Each design will only be rendered in oil once at this size and can be delivered in as little as 90 days.
You can e-mail for more details at: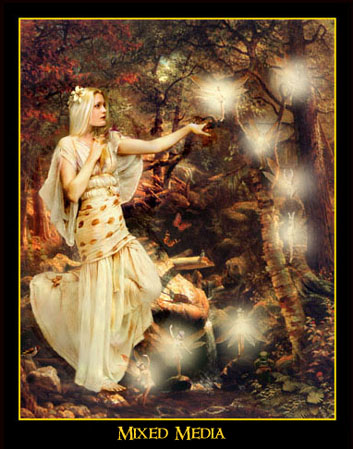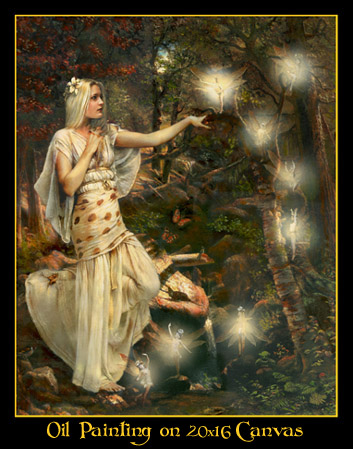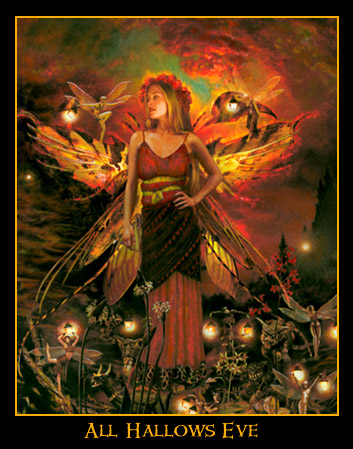 People have written asking me to tell them how to tell my digital and mixed media from my Prismacolors or oils. The very fact it is so hard to tell is my point! This new media looks very presentable and costs far less! ALL HALLOWS EVE was begun as a digital montage .This is your guide: above far right is the digital composition... As you're browsing my galleries and can't spot the difference I won't tell you... that would spoil the fun! Is it worth tens of thousands to you to be old fashioned?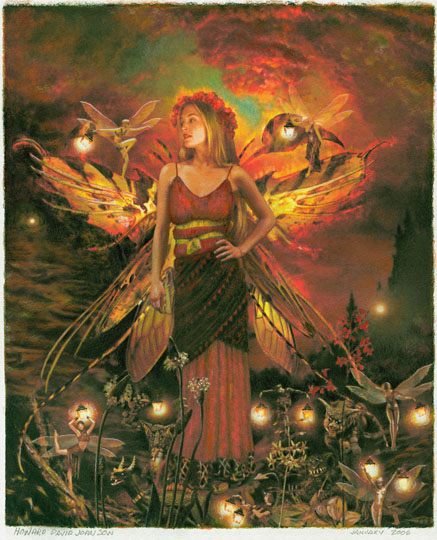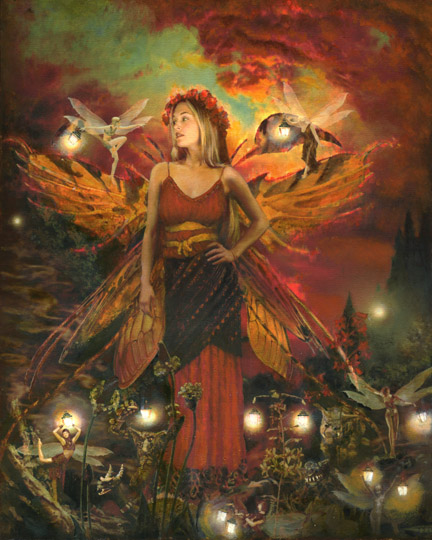 ALL HALLOWS EVE was rendered in oil on 20x16 canvas in 2010 (right) and features the lovely Ann Bratton as Titania in this illustration from Shakespeare's Midsummer Night's Dream. Even when displayed at the same size the oil on canvas is clearly a superior illustration to the 2006 Prismacolor Painting on paper. (left). Considering many oil painters charge $60,000.00 USD and up these $2,000.00 USD and up prices seem very low to me...
Original oil paintings are for sale, e-mail for info...
info@howarddavidjohnson.com
This Art Gallery has been honored by more than 25,000,000 Unique Visitors
from the Four Corners of the Earth
Ingerii si arta sublim inspirata~ a film by Veveshakti
My Friends from around the world thus far :
England, Canada, Scotland, Wales,   Ireland,   Germany, France, Monaco, Andorra, Italy, The Vatican City State, Greece,  Macedonia, Cyprus,  Turkey, Belgium, Denmark, The Faroe Islands,  Greenland, Yugoslavia, Macedonia,  Croatia, The Czech Republic, Bosnia, Herzegovina, Slovakia, Slovenia, Luxembourg, Latvia, Estonia, Hungary, Bulgaria, Lithuania, Poland, Austria,  Romania, Spain, The Russian Federation,   Estonia, Ukraine,   Kazakhstan, Moldova, Malta, Iceland, Finland, Norway, Netherlands, Switzerland, Liechtenstein, Sweden, Portugal,  Albania, Armenia, Georgia, Slovak Republic, Azerbaijan, Belarus, Kazakhstan, Gibraltar, Israel, Palestinian Territories, Egypt, Libya, Mali, Algeria, Niger, Saudi Arabia, Oman, The United Arab Emirates, Kuwait, Bahrain, Qatar, Yemen, Iraq, Iran, Jordan, Syria, Lebanon,   Morocco, Ethiopia, Eritrea, Liberia, The Republic of Congo,   Rwanda, Kenya, Angola, Ghana, The Ivory Coast, Zambia,   Zimbabwe,   Sudan, Nigeria, Namibia, Sudan, Uganda,   Kenya,  Eritrea, Tanzania, Botswana, Malawi, Senegal, Djibouti, Cameroon, Chad, Gambia, Mozambique, Swaziland, Lesotho, South Africa, Seychelles, Viet Nam, Japan, South Korea, China, Hong Kong, Macau, Mongolia, Mauritius, Singapore, Thailand, Cambodia, Laos,   Myanmar, Macau, Malaysia, Taiwan, Nuie, New Zealand, Fiji, Cook Islands, New Caledonia, Vanuatu, American Samoa, Australia, Micronesia, Polynesia, Papua New Guinea, The Heard and McDonald Islands, The Philippines, Guam, Palau, Cocos Island,  The Kingdom of Tonga, Malaysia, Brunei Darussalem, India, Pakistan,   Afghanistan, Bhutan, Bangladesh, Sri Lanka, Chagos Islands, The Republic of Maldives, Turkmenistan,  Kyrgyzstan, Uzbekistan, Tadjikistan, Nepal, Indonesia, Chile, Argentina, Uruguay, Paraguay, Brazil, Peru,   Aruba, Venezuela, Bolivia, Suriname, Guyana, Aruba, The Dominican Republic, Guatemala, Costa Rica,  Colombia, Trinidad and Tobago,   Antigua and Barbuda, Barbados, The Virgin Islands, Saint Lucia, The Netherlands Antilles, Panama, Saint Vincent & Grenadines, Grenada, Ecuador, Belize,   Nicaragua, El Salvador, Bermuda, Cuba, Jamaica, Dominica, Haiti, Puerto Rico, Cayman Islands,   Anguilla,    The Bahamas,   Honduras,   Mexico, Madagascar, Central African Republic, Ethiopia, Gabon, San Marino, Saint Kitts & Nevis Anguilla, Azerbaidjan, Burkina Faso, Equatorial Guinea, Polynesia, Madagascar, Mauritania, Burundi, and my home, The Great Free State of Texas (USA)...
If your home is not listed here please e-mail and tell us where you're from...
info@howarddavidjohnson.com
We love hearing from you! Your business, letters & links are always welcome. E-mail for courteous service...